Company Overview
Advance Display Technology Sdn Bhd, (ADT), is a client and service oriented local
high-tech company that specializes in the design and commissioning of
high quality computer controlled electronic display products and systems.
ADT provides clients with an alternative in the purchase of Malaysian made hi-tech
electronic displays and operating systems.

Our mission is to continue our research and development to ensure that we be,
and remain, a leader in this field.
Our objective is to provide our Clients with the most up-to-date equipment that is
top of the range by international standards at very affordable and competitive prices.

Advance Display Technology Sdn Bhd is built on and operated by key personnel with a wealth of experience ranging from 12 years to more than 20 years in the field of computer controlled electronic displays and systems. Our technical team is without doubt the cream of the country's elite in this field.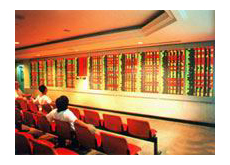 Our professionals are creative people, whose priorities are client satisfaction, leading to job satisfaction culminating in pride for a job well-done. We will strive to give clients their money's worth and adopt cost effective after sales service to ensure that the products purchased continue to serve and benefit our Clients.
Particulars of Company Experience
Established in 1999, Advance Display Technology Sdn Bhd has certainly advanced considerably. We have managed to rise above our competition and are now in a class of our own and are a responsible leader in our chosen field. As business expanded rapidly, we moved to bigger factory about 450 m² in year 2010. We promise ourselves to continue expand.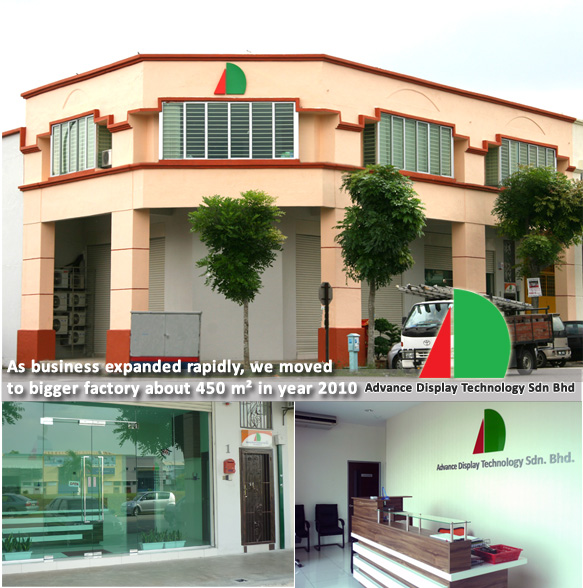 Given the opportunity we are confident of being able to produce and provide products and systems that exceed our Clients expectations based on the expertise of our many experienced personnel.
We are also prepared to provide adequate guarantees to safeguard the interests of our Clients.

List of completed projects (Further details for each record are provided in Track Record Section):
SpectrumVision - Outdoor Full Color LED Video Display Board / Scoreboard
No.

Customers and Sites

Completion Date

1

Tentera Laut Diraja Malaysia (TLDM) Lumut

-

Kompleks Sukan, Pangkalan TLDM Lumut

- (Outdoor Full Color LED video scoreboard -
288 x 208 pixel @ 35mm pitch)
Royal Malaysian Navy (RMN) of Lumut - Sports Complex at RMN Base Lumut

July 2006

2

Jabatan Kerja Raya (JKR) Kedah

- Stadium Sultan Abdul Halim -
(Indoor Full Color LED scoreboard - 320 x 240 pixel @ 12.5mm pitch)
Public Works Department of Kedah - Sultan Abdul Halim Stadium

April 2006

3

1 Utama Shopping Complex - Full Color LED advertising display
(256 x 192 pixel @ 25mm pitch)

October 2005

4

Indoor Full Color LED Scoreboard & Monochromatic Amber Scoreboard
(256 x 128 pixel @ 16mm pitch)

May 2005

5

Majlis Sukan Negeri Negeri Sembilan (MSNNS) - Stadium Tunku Abdul Rahman (T.A.R.) Paroi (384 x 288 pixel @ 35mm pitch)


State Sport Council of Negeri Sembilan

- Tunku Abdul Rahman (T.A.R.) Paroi Stadium

May 2004

6

Dewan Bandaraya Kuala Lumpur (DBKL)- Stadium Bola Sepak Kuala Lumpur (320 x 240 pixel @ 22mm pitch)
Kuala Lumpur City Hall -Kuala Lumpur Football Stadium

7

Majlis Sukan Negeri Perak

(MSNPK)

- Stadium Perak Darul Ridzuan
(256 x 192 pixel @ 35mm pitch)
State Sport Council of Perak - Perak Darul Ridzuan Stadium

March 2004
No.

Customers and Sites

Completion Date

1

Indoor Tri-color scoreboard for unversity swimming pool

August 2007

2

Dewan Bandaraya Kuala Lumpur (DBKL)- Stadium Hoki - Outdoor LED Matrix Scoreboard


Kuala Lumpur City Hall





May 2007

3

Indoor Tri-color scoreboard for swimming

January 2006

4

Scoreboard for swimming

November 2005

5

Singapore Swimming Association - Singapore Sports School - Indoor LED Matrix Scoreboard

November 2005

6

University Malaya - Outdoor LED scoreboard for Hockey Stadium

January 2005

7

Majlis Sukan Negeri Negeri Sembilan (MSNNS)- Scoreboard Systems for SUKMA-10 at Stadium Hockey & Nilai Indoor Stadium


State Sport Council of Negeri Sembilan

May 2004

8

Putrajaya - Canoeing Scoreboard

February 2003

9

Majlis Perbandaran Petaling Jaya (MPPJ) - Outdoor Scoreboard at Stadium MPPJ


Petaling Jaya Municipal Council

December 2001

10

Dewan Bandaraya Kuala Lumpur (DBKL) SEA GAMES 2001 -
Stadium Titiwangsa Kuala Lumpur
Badminton Stadium Kuala Lumpur
Swimming Complex Kuala Lumpur
and Football Stadium Kuala Lumpur
Kuala Lumpur City Hall

July 2001

11

Amateur Swimming Association of Malaysia - Water Polo Scoreboard

November 2000

12

Bukit Kiara Equestrian Club - Equestrian Scoreboard

September 2000
Stock Vision - Real Time Stock Information Display System
Real-time Stock Exchange Information Display - Outdoor Tri-Color LED Matrix Display Board

Mayban Securities

- Bangsar

Maybank Share Investment Centre (SIC)

-

Port Dickson, Bentong, Jerteh, Sungai Besar, Tanjung Malim, Kota Bharu

K&N Kenanga Securities

- Muar

K&N Kenanga Securities

- Klang, Subang Jaya and Petaling Jaya

Public Bank Bhd

- Kuala Lumpur & Petaling Jaya Section 2 (SS2)

Kuala Lumpur City Securities

Jupiter Securities

- Real Time Stock Display Software

K&N Kenanga Securities,

Kuching and Miri

Apex Securities

,

Selangor

Maybank Share Investment Centre (SIC).

- Kepong, Petaling Jaya, Klang, Ipoh Garden, Kuching, Miri branches

Baiduri Securities

, Brunei

Phileo Alliance Bank

,

HeadQuater
Transportation Information Display
No.

1

Flight Information Display System (FIDS)
KLIA Low Cost Carrier Terminal (LCCT) - LED and LCD displays for main concourse, check-in counters, departure gates and baggage

March 2006

2

Malaysia Airport Technology (MAT)


LED Displays at Labuan Airport

July 2004

3

Malaysia Airport Technology (MAT)


LED Displays at Langkawi Airport





August 2003

4

Bus Terminal Departure Information Display


Dewan Bandaraya Kuala Lumpur (DBKL)

- Putra Bus Station

- Bus Information Display & Information Kiosks
Kuala Lumpur City Hall

June 2003
No.

1

Pelabuhan Tanjong Perlepas (PTP)

- Outdoor Variable Message Sign using WiFi network




Port of Tanjong Perlepas

May 2006

2

PCS Vision - Outdoor

Variable Message Sign

November 2005

3

Majlis Bandaraya Melaka Bersejarah (MBMB) - Outdoor Tri-color

Variable Message Sign

for Melaka State


Melaka Municipal City Council

May 2005

4

MTD Prime Sdn. Bhd. - Portable

Variable Message Sign

for East Coast Highway

February 2005

5

Jabatan Pengangkutan Bandar Dewan Bandaraya Kuala Lumpur (JPBDBKL)
Kuala Lumpur City Hall Urban Transportation Department
* Jalan Ampuan / Jalan Tunku Damansara
* Jalan Dang Wangi

December 2004

6

Setiausaha Kerajaan Negeri Sembilan (SUKNS), Wisma Negeri - Outdoor

Variable Message Sign




State Government Secretary of Negeri Sembilan

August 2003

7

Jabatan Pengangkutan Bandar Dewan Bandaraya Kuala Lumpur (JPBDBKL) - Waktu Solat & Time / Temperature Display
Kuala Lumpur City Hall Urban Transportation Department
* Jalan Travers / Jalan Damansara
* Muzium Negara
* Tentera Utara Diraja Malaysia (TUDM), Sungai Besi
* Jalan Istana
* Jalan Carruthers
* Jalan Mahameru / Jalan Tun Razak

July 2003

8

Dewan Bandaraya Kuala Lumpur (DBKL)- Flood Warning System come with Variable Message Sign and Wireless Communication System
Kuala Lumpur City Hall
* Jalan Dang Wangi
* Kampung Periuk
* Masjik Jamek
* Jalan Tun Razak
* Dataran Merdeka

No.

1

Institute Jantung Negara (IJN) - Tri-color bulletin board 30 characters by 10 lines
National Heart Institute

March 2005

2

Alliance Bank - 39 branches through Malaysia to date

Year 2002 - 2005

3

Singapore Aero Engine Overhaul Complex

May 2001

4

Telekom Malaysia (now known as TM Malaysia)

October 2000

5

Hong Kong and Shanghai Banking Corporation Bank (HSBC), Kuala Lumpur

August 2000
No.

1

University Kuala Lumpur - Indoor Tri-color LED matrix display

January 2005

2

Dewan Bandaraya Kuala Lumpur (DBKL) - Tidal Flow
Kuala Lumpur City Hall

June 2003

3

Tentera Utara Diraja Malaysia (TUDM), Subang - Outdoor LED Runner Display (DynamicVision)


Royal Malaysian Air Force (TUDM)

April 2003

4

Petlin, Kertih - Outdoor Lost Time Injury LED Display

January 2003

5

Tesco Hypermarket - Indoor Circular DynamicVision

September 2002

6

Universiti Teknologi MARA (UiTM), Shah Alam - Indoor LED Runner Display (DynamicVision)


University of Technology MARA (UiTM)

April 2002

7

Princeton Sdn Bhd

- Indoor Foreign Exchange Rates Display Board (FOREX)


April 2001

8

EMS Technologies - Outdoor

Variable Message Sign

at Tanjung Kubang & Tanjung Puteri Johor Custom

February 2001

9

AMN Amro Bank- Interest Rates Board

May 2000
| | | |
| --- | --- | --- |
| No. | | |
| 1 | IJM Berhad - Billboard & Messaging System at Putrajaya Convention Centre | October 2003 |
No.

1

Singapore Swimming Association - Singapore Sports School - Swim Timing System

June 2005

2

Royal Sabah Turf Club (RSTC) - Photofinish Timing System for horse race

December 2004

3

Majlis Perbandaran Sibu


Sibu Municipal Council

- Swimming Complex Bukit Lima - Swim Timing System

October 2004

4

Penang Turf Club -Equestrian Timing System

June 2004

5

Dewan Bandaraya Kuala Lumpur (DBKL) -

Swimming Complex Kuala Lumpur

- Swim Timing System
Kuala Lumpur City Hall

June 2004

6

Majlis Sukan Negeri Negeri Sembilan (MSNNS) - Photofinish, Intergrated Track & Field Result System for SUKMA - 10


State Sport Council of Negeri Sembilan

May 2004
ADT Other Products
No.

1

Cathay Communication & Security (M) Sdn. Bhd.

, Indoor LED Memo Display

July 2005

2

Aeroquip Singapore Pte. Ltd

, Indoor LED Production Display

June 2005

3

KK Metal Processing

, 4 digit Industrial Timer

September 2002

4

AMS

, Currency Exchange Board

April 2001