DynamicVision Brochures :
download here

(388KB)
2012 NEW MODEL!!!
DynamicVision series is essentially a range of small to medium size LED electronic display board used as public information displays. Although we have four off the shelf models in the series, we also entertain requests for customized displays.
1. Model DV7 - 1664RG
2. Model DV7 - 16128RG
3. Model DV7 - 16192RG
4. Model DV7 - 16256RG
The LED display boards are normally installed at public area, eg, corporate receptions, service counters, hotel lobbies, bus terminals, airport arrival/departure halls, railway stations, factory production areas, etc. The display design facilitates both wall mount and hanging from ceiling.
This LED display can display both text and graphic messages. The display colour is red, green and amber colours. The luminance intensity of LEDs is moderate for indoor viewing only.
Information show on the LED display is input via computer. Window-based display control software is used to enter and transmit the message to the LED display via the computer serial communication port.
Model:


DV7-1664RG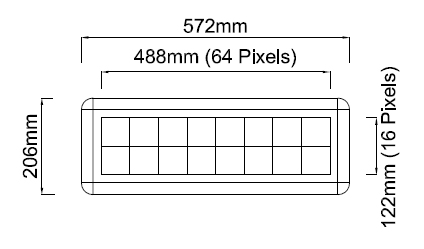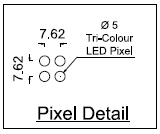 Specification:
Display type: Indoor tri-color LED display board
Display capability: Computer generated text and graphics
Overall dimension: 572mm (W) x 206mm (H) x 70mm (D)
Weight: 8 kg
Display Area: 488mm (W) x 122mm (H)
Resolution: 64 x 16 pixels (H x V)
Pixel size: 5mm
Pixel pitch: 7.62mm
Display elements: Red and yellow-green LEDs
Display colour: Red, green and amber
Luminance: 200 cd/m² per pixel
Viewable angle: 120°
Display character:
Small: Height = 50mm, Width = 35mm
Big: Height = 120mm, Width = 70mm
Text screen layout: 10 char x 2 lines (with small character size) & 6 char x 1 line (with big character size)
Display effects: Horizontal scroll in, central spread, vertical scroll up and down, blinking, static, wipe left and right, variable scrolling speed for horizontal scroll and blinking
Date / Time display: Yes
Data input: RS232 serial communication port (Optional: RS422, RS485, LAN Network & WiFi)
Power consumption: 80 watts (peak) & 40 watts (average)
Input power: 230 Vac, 50Hz, 1A

Model:


DV7-16128RG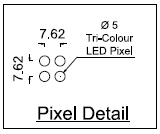 Specification:
Display type: Indoor tri-color LED display board
Display capability: Computer generated text and graphics
Overall dimension: 1060mm (W) x 206mm (H) x 70mm (D)
Weight: 15 kg
Display Area: 975mm (W) x 122mm (H)
Resolution: 128 x 16 pixels (H x V)
Pixel size: 5mm
Pixel pitch: 7.62mm
Display elements: Red and yellow-green LEDs
Display colour: Red, green and amber
Luminance: 200 cd/m² per pixel
Viewable angle: 120°
Display character:
Small: Height = 50mm, Width = 35mm
Big: Height = 120mm, Width = 70mm
Text screen layout: 21 char x 2 lines (with small character size) & 11 char x 1 line (with big character size)
Display effects: Horizontal scroll in, central spread, vertical scroll up and down, blinking, static, wipe left and right, variable scrolling speed for horizontal scroll and blinking
Date / Time display: Yes
Data input:RS232 serial communication port (Optional: RS422, RS485, LAN Network & WiFi)
Power consumption: 100 watts (peak) & 50 watts (average)
Input power: 230 Vac, 50Hz, 1A
DynamicVision Ethernet LAN Configuration